Thick Accumulation, Thin Distribution, Stable Development | HGA New Materials Successfully Selected for Strategic Procurement by Multiple Famous Enterprises
Affected by the global economic environment and the repeated impact of the epidemic, business operations are facing difficulties. Large enterprises choose suppliers through strategic procurement, establish long-term cooperative relationships, and achieve a win-win situation.
Suppliers with "high quality, low cost, and high efficiency" have naturally become high-quality partners for cooperation among major enterprises.
Zhejiang Hangjia Zetong Building Energy Saving New Materials Co., Ltd. (hereinafter referred to as "Hangjia New Materials") has always adhered to the principle of "quality is the lifeline" since its establishment in 1976. Through years of efforts, the "Hangjia" brand has become a synonym for high-quality products in the industry. While pursuing quality, Hangjia New Materials fully utilizes the advantages of group management and continuously enhances its cost control capabilities. "High quality" and "low cost" have become the "dual wheel drive" for enterprise development. In recent years, the company has increased its layout and built more than 10 production bases (nearly 20 production lines) across the country, laying a solid foundation for better customer service.
The outstanding advantages of Hangjia New Materials have been highly recognized and unanimously praised by major enterprises, which has also led to frequent achievements in the field of strategic procurement.
On December 25, 2021, through fierce competition and layer by layer selection, Hangjia New Materials successfully signed the "2021-2023 ALC Wall Panel Strategic Cooperation Agreement" with Beijing Huayuan Real Estate Co., Ltd., becoming the only concrete product supplier of Huayuan Real Estate.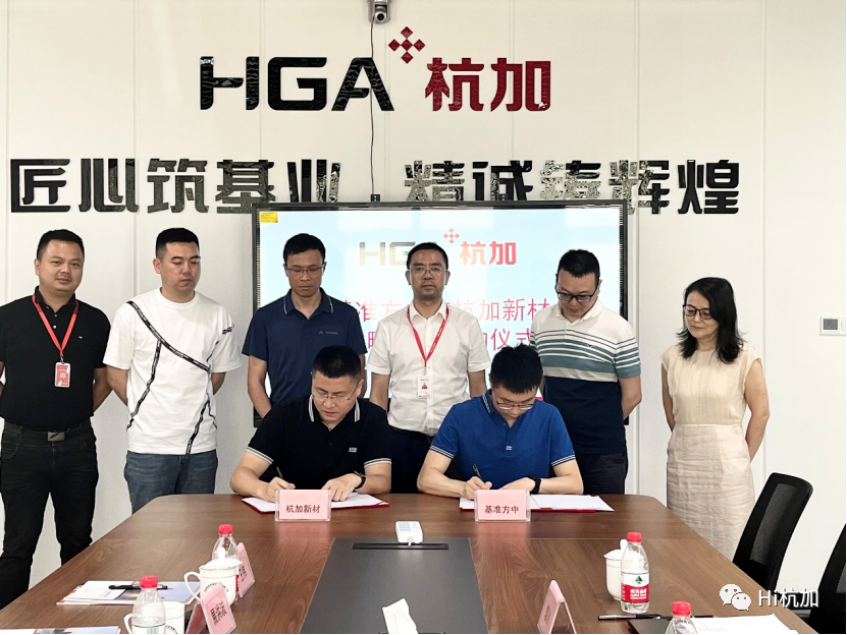 ∆ Hangjiazetong signed a Strategic Framework Cooperation Agreement with the benchmark party Zhongjian Design Co., Ltd
Benchmark Fang Zhong is a comprehensive design service enterprise dedicated to urban development and construction, one of the top ten private engineering design enterprises in China, and one of the industry benchmark enterprises in the field of private engineering design. It has also been awarded multiple honors, including "Excellent Private Design Enterprise in the National Survey and Design Industry" and "One Hundred Contemporary Chinese Architectural Design Institutes".
The strong alliance with the head design unit and the establishment of a deep strategic partnership will better achieve industrial collaboration and brand upgrading between the two parties by fully leveraging their respective advantages.
In the increasingly severe market environment, Hangjia New Materials has gained the unanimous favor of major partners and maintained long-term cooperative relationships, thanks to the company's years of deep industry cultivation and national layout; And in complex and ever-changing situations, we always adhere to our original intention, shoulder our mission, withstand storms, and strengthen our capabilities, continuously strengthening our own advantages in quality, cost, service, and innovation, and turning 'danger' into 'opportunity'.