State owned media "China Industry Daily" praises Hangjia Building Materials
Recently, the state-owned media "China Industry Daily" published a news titled "Hangjia Building Materials was awarded the title of" Quality and Reputation Model Enterprise ", reporting on Hangjia Building Materials being awarded the honorary title of" 2018 China Wall, Roof and Road Building Materials Product Quality and Reputation Model Enterprise ", and praising the company's outstanding achievements in recent years.
It is reported that "China Industry Daily" is guided by the Ministry of Industry and Information Technology and supervised by the China Industrial and Economic Federation. It is one of the most authoritative and influential media in China's industrial field.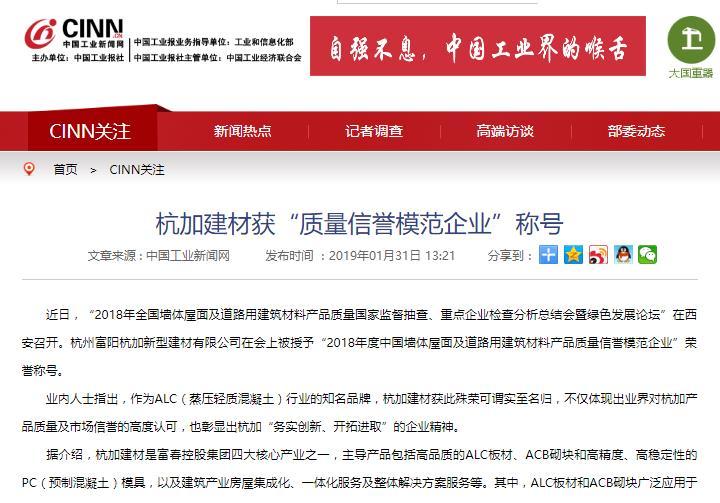 The above image is a screenshot of the original text of China Industry Daily
The article points out that as a well-known brand in the ALC (Autoclaved Lightweight Concrete) industry, Hangjia Building Materials deserves this honor, which not only reflects the high recognition of Hangjia's product quality and market reputation in the industry, but also highlights Hangjia's corporate spirit of "pragmatic innovation, pioneering and enterprising".
The article also points out that over the years, Hangjia Building Materials has made multiple historic breakthroughs in product quality and has consistently maintained a steady improvement. The company remains steadfast and steadfast in its original intention, adhering to the industry's process technology and product formula, using the highest quality raw materials, and adhering to 12 hours of autoclave curing. Compared to similar products in the industry, Hangjia Building Materials products have outstanding advantages in appearance, quality, and usage efficiency.