People's Daily: Hangzhou produces new building materials that float to the sea at full load, 24 hours a day, and resume production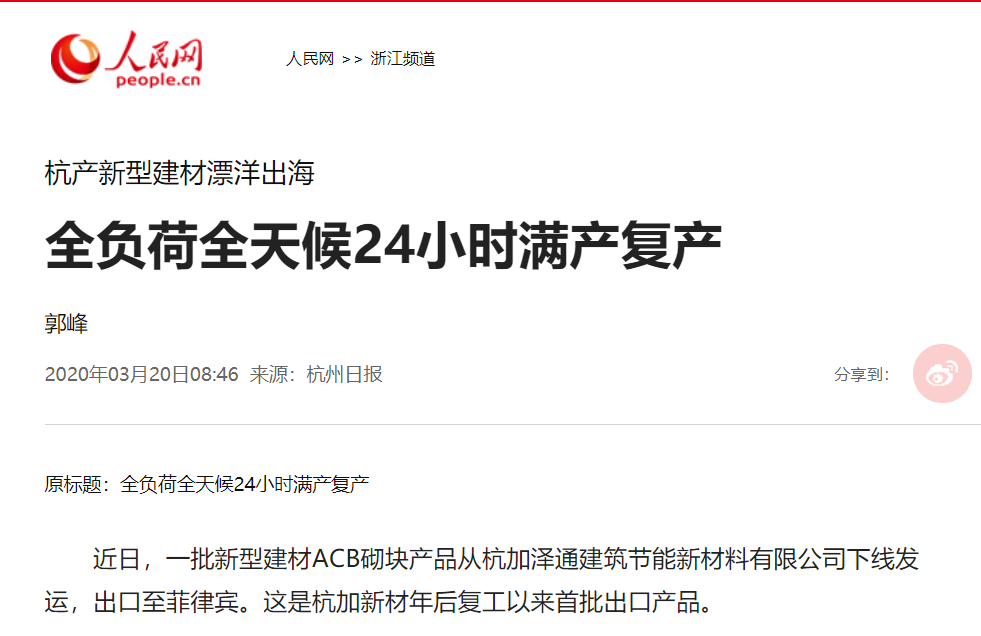 On March 20th, People's Daily, a leading national news website, reported on Hangjia New Materials
Recently, a batch of new building materials ACB block products were shipped offline from Hangjia Zetong Building Energy Saving New Materials Co., Ltd. and exported to the Philippines. This is the first batch of exported products since Hangjia New Materials resumed work after the new year.
Xiao Jie, Marketing Director of Hangjia New Materials, told reporters that the company has just received two new "foreign orders", one for AAC board from Melbourne, Australia, and the other for AAC board and ACB block from the Caribbean. This is the first batch of foreign trade orders received by the company after resuming work in the following year. Other existing overseas order businesses are also being intensively produced and will be selectively distributed overseas.
Hangjia New Materials is a large new building material enterprise under Fuchun Holdings, and is also the first enterprise in China to promote the application of aerated concrete AAC sheets in civil buildings. Since the resumption of work on February 15th, the overall resumption rate of Hangjia New Materials has reached over 90%. The company's production line presents a busy scene. Most of the frontline personnel in the production workshop of aerated concrete products are on duty, and they have resumed production 24 hours a day at full load.
It is very important to resume construction on the construction site and ensure the supply of building materials. Hangjia New Materials has launched over 80% of its projects in the local market of Hangzhou, and the company is strictly following the requirements to accelerate product manufacturing and supply. The building materials business in the whole domestic market has been greatly affected by the COVID-19, but with the opening of the curtain of resumption of production, the company's production and operation have gradually entered the normal track. At present, important engineering projects have been launched in various regions, such as the Xuzhou Vanke Great Triangle Project and the Wenzhou Duofu Green City Cuihuli Project, which have been operating in an orderly manner. Xiao Jie said, "While doing a good job in epidemic prevention, we are working hard to catch up with customer orders delayed by the epidemic, and we must seize the lost time." (Reported by People's Daily on March 20, 2020, originally published in Hangzhou Daily)